Evidence-Based Health Care
The practice of Evidence-Based Health Care is to base your clinical decisions on the best available scientific evidence, together with clinical expertice and your patients preferences.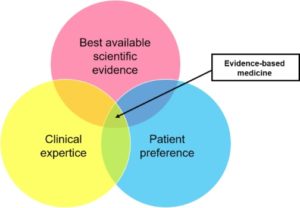 Evidence-Based Health Care involves four steps:
Ask Answerable Questions
Search for Evidence
Appraise the Evidence
Apply the Evidence
1. Ask Answerable Questions
Start with asking of well-built clinical question. This usually contains four elements (PICO):
| Patient/problem | Intervention | Control/comparison | Outcome |
| --- | --- | --- | --- |
| How would I describe my patient? Age, male/female, condition… | Which main intervention am I considering? Test, drug, treatment… | What is the main alternative to compare with the intervention? Standard care, placebo… | In what aspect will this effect my patient? Quality of life, mortality, comorbidities… |
2. Search for Evidence
3. Appraise the Evidence
It is important to assess the quality of the studies you have found. Use CASP critical appraisal tools when you assess Randomied Controlled Trials, Systematic Reviews, Qualitative Research, Economic Evaluations etc.
4. Apply the Evidence
Are the evidence generalisable to my patient / my question?
Are the benefits of this intervention larger than the possible side effects?
Can we afford the intervention?
How strong is the evidence?
GRADE is an international grading system, often used to assess if the body of evidence found is strong or limited.