Monitor journals with BrowZine
BrowZine is a service that helps you monitor, read and discover scientific journals in your field of expertise. All our subscribed journals for Stockholm County (Region Stockholm) are available online.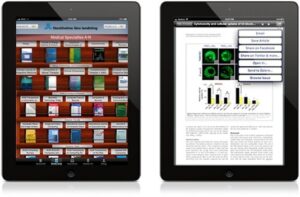 Reading journals on a tablet or smartphone
Select Library> Region Stockholm. Log in with your HSA-ID and password.
Click Institution Info and log in with Biblioteksproxy.
Apply for credentials and log in to your Browzine-account to save articles and journals.
Browse to your subject area, read and add interesting journals to My Bookshelf and save articles to My Articles on your tablet or phone.
Reading journals on a computer
Open BrowZine.
Browse to your subject area and add interesting journals to My Bookshelf and save articles to My Articles.
If your computer is outside of the Region Stockholm network: Select Library> Region Stockholm and login using your Biblioteksproxy.
Common questions
Employees at Danderyds sjukhus, Karolinska Universitetssjukhuset, Södersjukhuset and units with contract for library services. Use of BrowZine requires Biblioteksproxy.
Most journals that the libraries in Region Stockholm subscribed to online you will also find in BrowZine. In BrowZine you can also find open access journals. BrowZine contains articles from 2005 onwards. If you are looking for older articles you sometimes have access to them through our list of journals.
Yes, you can save articles to EndNote, Zotero or Mendeley.
Journals you monitor and articles you save are synced between devices with your BrowZine-account. If you do not already have a BrowZine-account, you can create one when you click on My Bookshelf or My Articles in BrowZine.
Use of BrowZine thus requires:
Login with BrowZine-account to sync your bookshelf
Login using Biblioteksproxy to access full text articles.
Credentials are saved in the app/browser, so you only need to log in once.
My Bookshelf is your personal bookshelf where you add the journals you want to monitor. Use My Bookshelf to save articles in different collections. Read more in My BookShelf and BrowZine Account FAQs.
Yes. Under Settings> Change Library, you can switch between Karolinska Institutet and Region Stockholm. To download the articles you need to log in with your Karolinska Institute proxy credentials and our proxy credentials. My Bookshelf shows journals you have added from both libraries. Journals belonging to the library you are not logged into at the moment are grayed out.